If you're reading this, you're likely considering working with the Matt Tanaka Marketing team on a branding project. If that's true, thank you! We know this isn't an easy decision, and that choosing a design partner is a lot like choosing any other partner. You'll be letting them behind the scenes.
We also know that it's not cheap.
But we wouldn't recommend the work if we didn't truly believe in it. In fact, we started this company because of our belief in the power of strategic, well-designed, well thought-through and intentional beer brands. If a brewery can do a great job of explaining who they are and what kind of beer they make through their design, marketing and events, then they can better connect with beer drinkers.
The following is a case study of a rebranding project we undertook with 3 Sheeps Brewing Co of Sheboygan, Wisconsin that we believe accomplished that exact thing. In fact, within a month of launching the new branding, they were up over 60% in off premise sales. And that was just the beginning.
The Projects
+ Logo & Identity Design
+ Brand Study and Direction
+ Packaging Design (12ox Bottles, 12oz Cans, Six Packs, Cases)
+ Website Creative Direction
+ Photography
+ Copywriting
+ Social Media Content & Strategy
+ Marketing Strategy
3 SHEEPS BREWING CO. ASKED US TO HELP WITH A FULL REBRAND, STARTING WITH A NEW LOGO...
On the eve of 3 Sheep's 4th anniversary, they approached us with a request: rebrand the entire brewery in time for their 5th anniversary.
Together with Jack Muldowney of Studio Malt, we tore everything down to the studs and built up an intentional brand that reflected the kind of beer they made, and still gave clever nods to the whole sheep thing.
The whole project kicked off with a mantra you'll frequently here us mutter under our breaths (sometimes in frustration, sometimes in excitement) -- trust the process.
We believe that our process, honed over many beers and much sweat and in one case, a tiny bit of blood -- allows creativity and business strategy to push and pull off each other until we land on a brand and story that's simple, clean and clear.
Discovery Phase: A deep dive into our client's brand
We started the way we start every project - with a ton of research. We spent a lot of time with the brewery team, drinking their beers, watching their process, interviewing their employees, retailers and distributors -- and asking a million questions.
What kind of beer do you make?
How do you come up with a new recipe?
How do you explain the brewery to folks at the bar?
What are three words you would use to describe the brewery?
Why THREE sheep?
Did you know that your brewery name is grammatically incorrect?
The goal was simple -- to understand all of the disparate components of what makes 3 Sheeps who they are, so that we can combine them and describe the brand as a whole. In simple terms. For 3 Sheeps, we came up with a phrase that would encapsulate everything they do while answering the question: what kind of beer do you make?
The term "Brewed With Heart + Science" is a succinct way to describe the brewery. The 3 Sheeps teams has a tendency to avoid doing things the way they've always been done. Instead, they set their sights on something once thought impossible, and bury themselves in scientific process until they achieve it. They're equal parts creativity and scientific process. Experimentation and balance. Heart and science.
They let their hearts inform their creativity and ask big questions like, "Can we brew a beer with ghost peppers?" or "How do we make an IPA that hasn't been done before?" Then they use meticulous research and scientific process to figure out how to make their ideas work. They make beers that nobody else is brewing, in ways that nobody else is brewing them, with ingredients that nobody else is using. But they do so in a way that's so balanced, most people wouldn't have noticed if we didn't tell them. Because at the end of the day, they believe the best beer you can drink is one you enjoy... and that it's even better if you didn't see it coming.
Armed with this new understanding of the brewery, we set out to build a brand. At every step along the way, we checked back in with this statement and asked ourselves if the decisions we were making stayed true to these words -- and in turn, to the real story behind the brewery.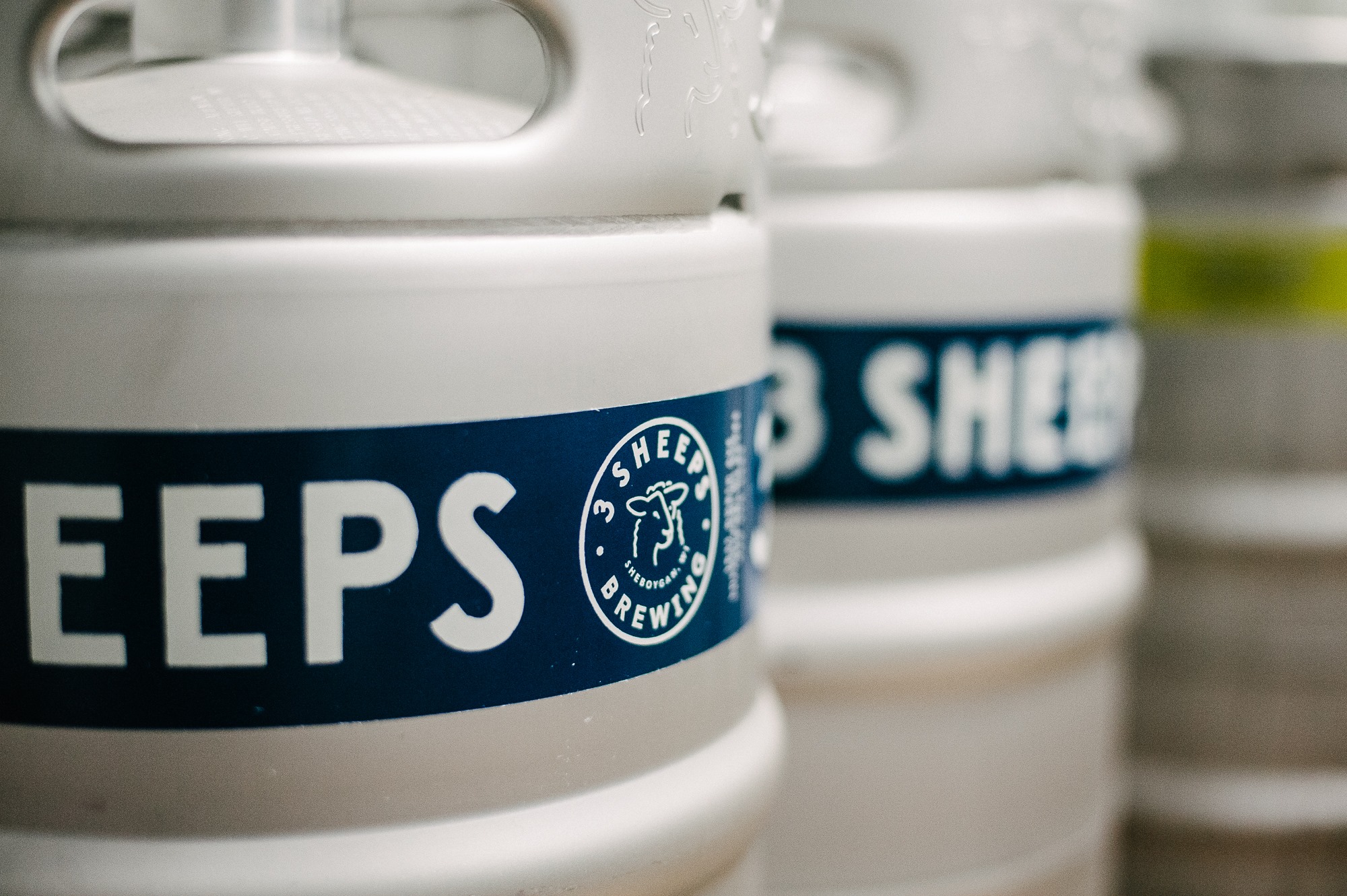 Design Phase: Where we start to build out the brand
Now that we understood the 3 Sheeps story, we set off on the tricky process of finding visuals to tell that story.
Next, we turned our attention to the core-brand packaging. We wanted something the would be unique and attention-grabbing, while staying true to the brewery's Wisconsin roots and always telling the story of what's actually inside the bottle. Lead designer Jack Muldowney brought a set of illustrations to the table that fit this vibe perfectly. The content would be serious and focused on the beer itself, with images of what the drinker could expect. The style would be colorful, pastoral, and accessible creating the "heart and science" contrast we wanted, while always staying true to the beer itself.
Once we had established the new look and feel for the brewery's core lineup, it was time to define specialty and large-format bottles, as well as a brand new set of 12oz cans.
Finally, with the beer designs set, we fleshed out the rest of the brand. We developed everything from keg collars and cases to tshirts, coozies, buttons, posters, taproom murals and more. We want to make sure that everything the brewery put out into the world featured this new brand, so that everything would be clean, clear and concicse.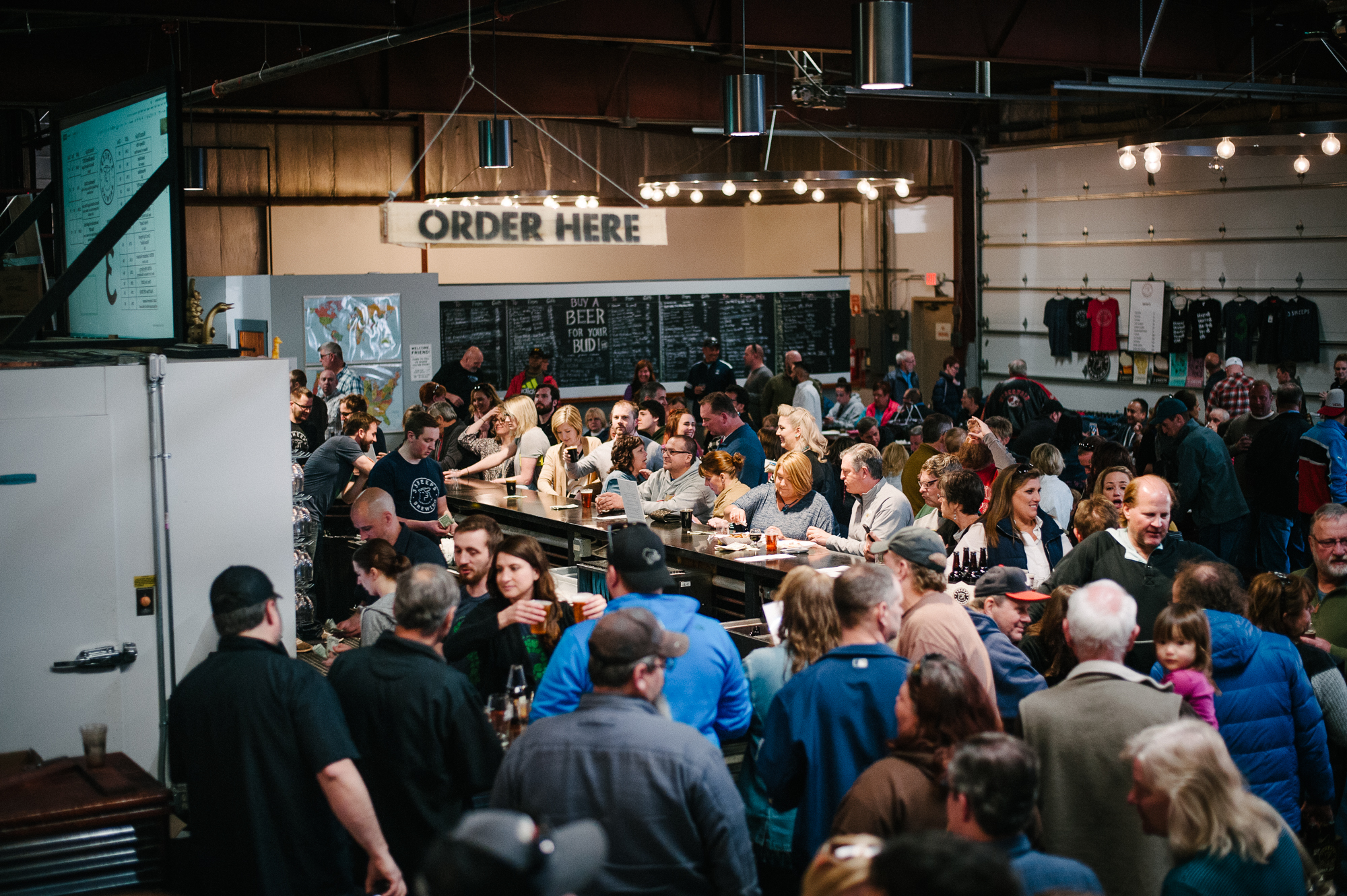 Launch Phase: Where we set up strategies to get the word out
With the brand refresh set, and new bottles, labels, cases, shirts and more in had, we turned out energies to a massive kickoff party. The brewery's fifth anniversary was approaching and we had managed to keep the entire project a secret up until this point. We helped the brewery use social media, email marketing and their real life sales reps to announce the new brand, tell the story behind it and get people excited about the biggest party the brewery had ever thrown.
To get the word out beyond the normal taproom audience, we enlisted a number of promotional partners, including the brewery's Chicago distributor who made a video introducing the new branding, and inviting people to the brewery for the party. 3 Sheeps even charterted a bus from Chicago to bring beer fans back and forth.
The party was a massive success. The brewery featured their new bottles, ran tours that we helped develop, and celebrated with a packed house... from 11am until well after closing.
From there, we continued to act as 3 Sheep's marketing department for hire, establishing strategies for social media, website content, email marketing, event planning, and more, while advising the brewery on marketing, design and brand decisions.